CRM's flagship production-post production offices, control room & 3,000 square-foot soundstage are located in the heart of the DFW metroplex in beautiful Las Colinas (Irving) Texas. Headquartered inside Mercury Studios, soundstage C is tied to our HD control room and features a 3/4 cyc wall, as well as "ready to use" sets.
Mercury Studios, formerly The Studios at Las Colinas, is an historic television production facility and is second-to-none in the DFW market, with some of the biggest TV shows, movies and rock bands having worked and played within these amazing facilities. Classic 1980's movies such as RoboCop to Born on the Fourth of July were shot here. This building has also housed some of the top bands from the classic rock era. The Rolling Stones, Eagles & Genesis all graced the Mercury Studios stages.
The C Stage dimensions are 60' X 50' (3,000 square feet) and feature 15 feet of clearance to the lighting grid. The room has 135 circuits to tap, including a 100 amp, 3-phase disconnect. The 180-degree cyc wall adds even more versatility to this busy soundstage. Lastly, this video production studio features a 4-camera setup consisting of three ped cams and a 26-foot jib cam. All ped cameras are teleprompter + vanity monitor-ready. The soundstage works in unison with our HD control room.

Ross Carbonite 2S 2-MLE switcher, switchable formats  

Two 55-inch multiviewers

Four Panasonic 3800 HD 2/3-inch 2.2 Megapixel 3CCD studio cameras (three on peds/one on jib), with Fujinon 20X Lens, 2X extenders and 2X digital extenders

Three Vinten studio camera pedestals

Two wire RTS Intercom Systems, wired and wireless belt packs on cameras and all control room stations

Chyron two-channel HD Graffiti System for on-air graphics with media playout

Five AJA Ki-Pro Decks for program and/or ISO Recording, SD or HD

Twentyfour-channel Soundcraft Expression mixer for audio recording/mixing with a 46-inch multiviewer

Six wireless lavalier microphones with extra hard-wired mics as needed
Six phone lines for show call-Ins, takable to air/tape 

Fiber, satellite or Internet connectivity from control room

Fiber via "The Switch" Connectivity

Satellite via a contracted vendor.  Location truck using above methods

Laptop to Air (two HDMI With Analog Audio Stations)

In-room printer/copier/scanner

Skype TalkShow calls to air/tape

Talent IFB, wired and wireless

PowerPoint to air/tape

FrameSync and UDC converters for

conversion

Wired and wireless Internet access for guest use

FinalCut and Premiere Edit-Suite in control room allows for quick edits to air

Teleprompter for all four studio cameras

Our Shreveport soundstage is an asset of tremendous convenience and versatility. Our state-of-the-art production & post production facilities include a 950 square-foot stage; with a grid at 11 feet and centrally located within Shreveport in the modern InterTech1 building complex. This stage features a green screen curved cyc wall and multi-actor mo-cap system.
CRM Shreveport's stage features an industry standard green screen with curved cyclorama or "Cyc" wall, professional lighting equipment, and a multi-actor motion capture system. The Cyc wall runs along the perimeter of the stage for infinite depth of field and, while pre-lit and ready for green screen shoots, can be painted and lit for a variety of looks.
The adjacent control room and audio booth provide the needed environment for any type of video production. A variety of other adjoining spaces are available as make-up or dressing rooms as well.
Convenient for all of our clients, both our Dallas and Shreveport-Bossier City offices are within about 15 minutes of both the regional and international airports.
"What Else Do I Need in Addition to the Soundstage for My Project?"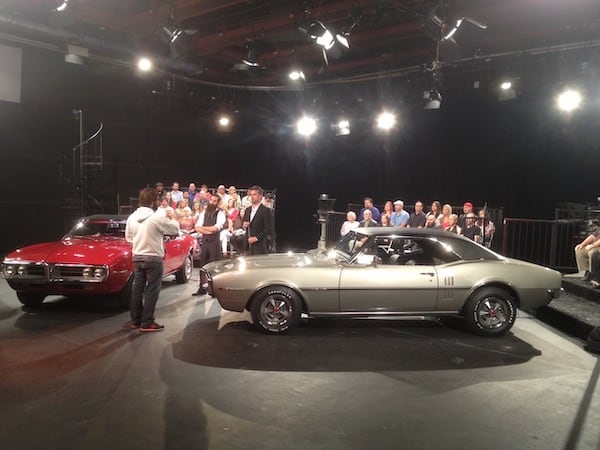 Some of the basics you might need for your project include cameras, a lighting package, audio equipment, wardrobe, makeup and a crew to run it all. CRM Studios can provide you with all of these. For a more complete list of production equipment and packages, see our Production Equipment page.
You'll find our loading ramps, loading docks, and studio loading doors accommodating. They are especially helpful should you choose to bring your own equipment, props and set decorations.
The docks are standard height for large trucks, while the ramps have roll-up doors that are spacious enough to drive a fully equipped broadcast trailer into the studio (we've done it)! The studio doors are 11-feet 5-inches wide by 15-feet 8-inches high, taking much of the stress out of load-in and load-out.
You can rent the stage by itself or choose the package for equipment and crew that's just right for you. You can add items and crew a la cart as well, but due to legal directives, a CRM Studios stage manager is required for all shoots on our soundstage. Don't worry, we're here to help, not get in the way.
Let us help you tell your story.
Get a quote for your next project.
Let us help you tell your story. Get a quote for your next project.

Not convinced? Take a look at some of our work.