CRM and Whitebox Take Home Award For "There's No Bullsh*t!" Commercial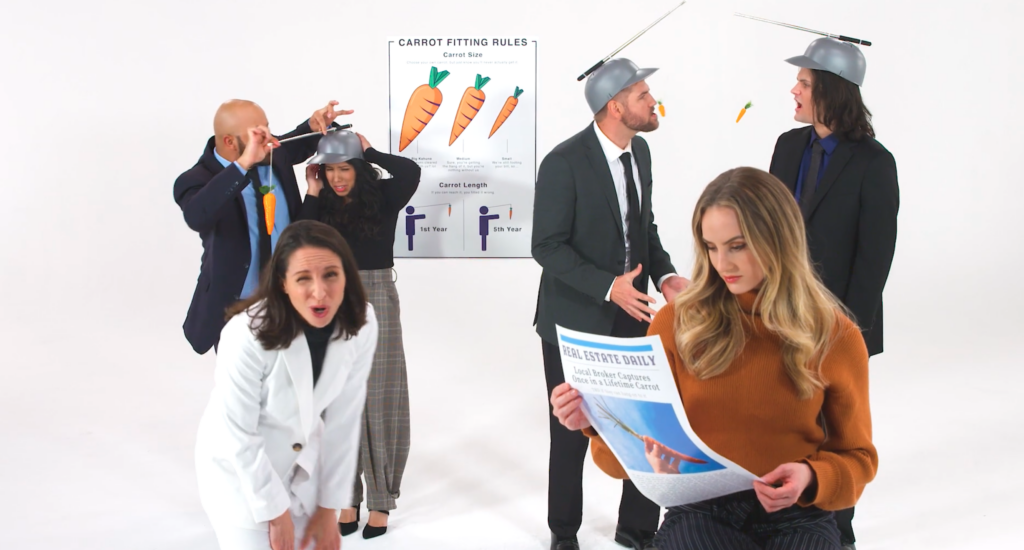 To achieve great rewards, great risks have to be taken. That applies to most aspects of life, but it was especially accurate with our recent collaboration with Whitebox for their recruitment videos.
Whitebox is a full-service office and industrial real estate firm that was looking to create special videos and commercials that not only captured what their company was all about, but how they are a unique, outside-the-box real estate team that does it all.
Not only were CRM Studios and Whitebox successful, but CRM is pleased to announce that Whitebox Real Estate won a prestigious 2023 Stevie Award from The American Business Awards for the recent project "There's No Bullsh*t!"
The video, directed by CRM Studios CEO Steve Dunning, was brought to CRM by Whitebox's creative producer and writer Dustin Vyers. It was a wonderful example of CRM Studios' abilities to tap soundstages, practical & special effects in addition to a well-seasoned team of creative writers, producers, directors, editors and animators. Tons of appreciation goes out to all who helped with the final product, especially the talented editing and special graphics teams.
"The award makes us feel like all of the efforts that went into working to get each of the messages right and on point when Whitebox used this video as a recruitment tool paid off," Dunning said. "Their goal was to just add one new person to their team. Well, they just got three new recruits, and it more than paid for the video. And that's no BULLSH*T."
Collaborative Commercial Process
When CRM Studios and Whitebox began the process of developing these branding videos, some of the ideas were born from the creativity that the original Dollar Shave Club ads leaned into.
The goal for Whitebox was to stand out from the corporate monotony and show just how exceptional their services are and why people should work with them, but the key was to do so in a captivating and creative way.
The central genesis for how the videos were made was collaboration — something CRM knows how to do in spades. It's not about coming up with an idea and pushing it on our clients. We want to create something new and exciting — together — and watch the ideas blossom into a production the clients can feel proud of.
Dunning had the pleasure of working with the creative marketing team at Whitebox to produce these videos and he was adamant that the high-quality content that was created could not have happened with that critical collaborative mindset.
"There wasn't a huge deadline that kept us from doing it right," Dunning said. "Sometimes we have deadlines that didn't allow us to pull off projects with finesse. We had enough time and that really allowed us to thrive."
Whitebox's Vyers, who worked alongside Dunning as a part of the creative team, said that collaboration not only made for a home-run project, but it also made it more fun as they were developing the ideas and the content associated with the video shoots.
The videos take a progressive attitude towards the overall real estate industry and after they were finished, Vyers said the responses were more than encouraging.
"People thought it was funny, but also true," Vyers said. "I've done video shoots before, but the production level on this was really high. It was just cheesy enough but not too cheesy that it was stupid. It turned out really nice."
Vyers echoed the value of the collaborative process and noted just how important it was that each creative team was welcoming to each other's perspectives.
"I consider myself a creative person and sometimes creatives can say 'it's my idea,' but everyone was so open and receptive," Vyers said. "We put our trust in Steve and Tom Kirkhart that the post-production would work out and it did. I really appreciated the process and I had zero worries about the whole process."
The production quality is crucial to helping the commercial stand out and Dunning said it was really important that audiences immediately understood this wasn't some video haphazardly put together.
One of the aspects the video employs is the white cameo background. Dunning said that helped put the focus on the people on screen and the message they were communicating.
"In our business, there's a difference between low production and high production," Dunning said. "It carried that quality production really well."
Finally, not only did the long-form video prove to be award-worthy and progressive, but it also allowed Whitebox to turn it into shorter videos that could be shared across a variety of platforms.
"I know in our recruitment, we were able to send out the shorts that added a layer of personalization and interactivity to hook people," Vyers said. "We went in knowing we wanted a longer video that we can divide into chunks."
Dunning has seen over the years just how valuable those standalone videos can be and how their added value to the overall project gave Whitebox the versatility to share their message however they wanted.
Vyers said the videos were perfect timing for Whitebox's rebrand and that the video was the best punctuation for the entire process.
To see how the first video was able to be digested into more bite-sized pieces, check out the other shorts here:
To see all the ways CRM Studios can lead your video production and develop cutting-edge commercials with our experienced video, audio and animation editing teams, contact a producer today!