CRM Studios' Kevin Alexander Gives Back To National PKU Alliance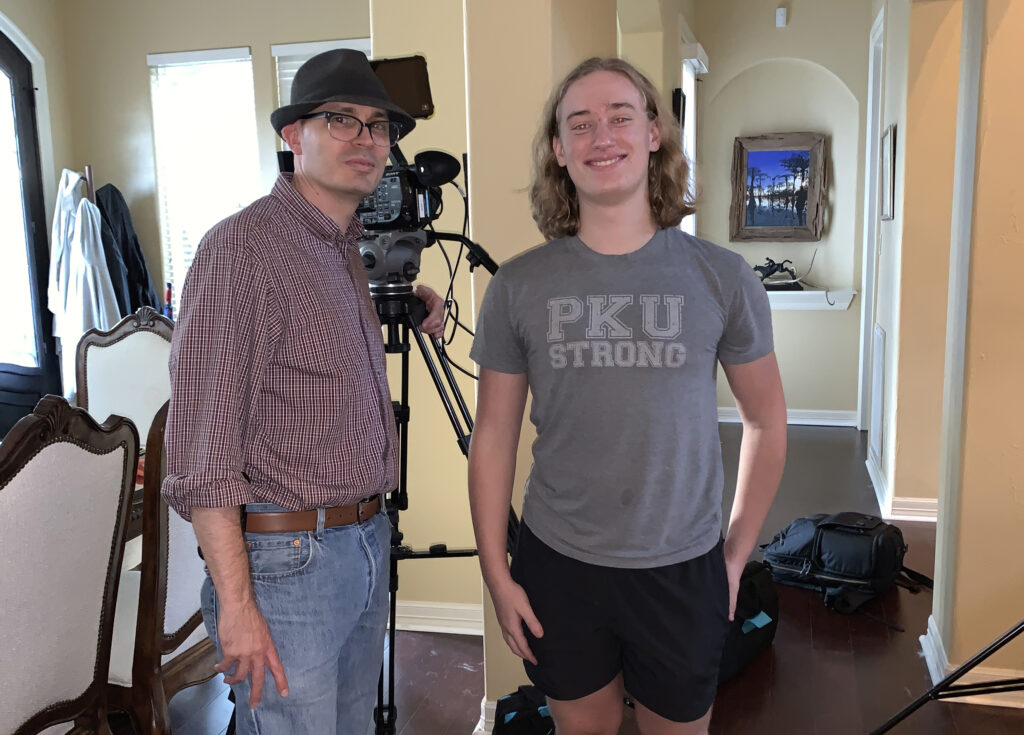 As a senior editor and videographer for CRM Studios Shreveport, there isn't much that Kevin Alexander hasn't told a story about through his videos.
Alexander has traveled the world and used his unique vision behind a video camera to craft some truly special content, but recently, Alexander got an opportunity to really put his talents to work for a cause he has a deeply personal connection to.
Over the course of a month and a half, Alexander traveled to New York City, Chicago, Indiana, Austin and Dallas to capture footage for a fundraising video for the National PKU Alliance.
What is PKU? It's an inherited metabolic disease known as Phenylketonuria — something Alexander was diagnosed with at a young age and if left untreated, it can cause seizures, delayed development and psychiatric disorders.
It is estimated that only 16,500 people in the United States live with PKU and perhaps more importantly, there is currently no cure for the disease, making it even more critical to raise awareness and funds to help fuel research for a potential cure.
It is possible to live a normal life by eating a very low-protein diet and Alexander is lucky to have lived with the disease. Now, he has had the chance to give back to a cause he feels strongly about.
"Obviously I have a personal stake in it and I got involved in PKU advocacy about 10 to 11 years ago," Alexander said. "I didn't know anybody in town that had it growing up and I met one other family that had it in south Louisiana and included them in a video I made."
In 2011, Alexander made a video sharing his story and his struggles that he didn't expect anybody to watch. Since then, Alexander has stayed connected to the National PKU Alliance and in the process has had the chance to meet people from all over the world dealing with the disease.
One of the main takeaways from his experience making videos for the National PKU Alliance is that not everyone has been as fortunate as he has been. Alexander has had access to a protein formula that helps give him the nutrients his body needs, but his interactions with other people affected have truly opened his eyes to PKU's influence.
"Just because I had an easier time with it, doesn't mean everyone else does," Alexander said. "It became really important to me to use my voice and my professional training to raise awareness to all the challenges happening in this community. I've had people tell me that when they found out their child had PKU that my video was the first thing they found on YouTube. To hear that my video was a help to people really meant a lot."
PKU was discovered in the 1930s with low-protein treatment officially developed in the 1950s. Then, screening in infants via a heel prick blood sample helped catch the disease early in life beginning in the 1960s.
But despite all the medical advancements with the disease, there is still much work to be done and Alexander is doing all he can to have a positive impact in any way possible.
"Tragedies happen and there is just nothing anybody can do about it and you feel powerless like I'm not making a difference here," Alexander said. "I feel fortunate I've been able to meet other adults and been able to befriend people that have the disease."
One of those people Alexander has befriended over the years has developed into a special connection.
Alexander met Will Singletary when he was five years old. Today, Singletary is 17 years old and Alexander said watching him grow up over the years has meant so much to him.
"To be able to interview him and realize I'm talking to a young man now and not a child, I think about how great of a job he's doing right now as a teenager speaking about living with PKU," Alexander said. "It meant a lot to be able to put him in this video. It really did."
Alexander said seeing the PKU community develop and being able to be there for each other over the years is so important.
After all the hard work, Alexander finally got a chance to see the finished product at the Lifting the Limits for PKU fundraiser in San Jose, California.
It was the first time since the Covid-19 pandemic that there has been an in-person event. To say that it was a success would be an understatement.
Over $470,000 was raised for PKU research and it gives Alexander hope that someday there will finally be a cure.
Providing the narration for the video was noted CBS news anchor and journalist Scott Pelley.
To be able to have someone as established and respected as Pelley lend his voice to the video was crucial according to Alexander.
Alexander had a chance to speak to Pelley at the event and Pelley made a point to tell him that his video was "beautifully shot."
"I told him, 'I'll take that,'" Alexander said. "We worked on the script and he was very, very gracious with his time. He really knows how to do it right and he wakes people up to know it's a real video."
Alexander said he felt like he has been preparing his entire career to create this video and now that it's finished and even more money was raised for research, he is beaming with pride knowing he's made the tangible difference he's been wanting to for so long.
"Honestly, professionally and personally, it means a lot to me because I feel like all the work I did on my own before I came to CRM and all the work that I've been doing at CRM really did culminate in this video," Alexander said. "I literally put everything I had into this video and most importantly the people that watch this video understand what the money goes to for research for a cure."
There is still a ways to go to find a cure, but to feel like a cure could be found in Alexander's lifetime gives him some peace of mind.
"It's hard sometimes to know the impact your work is having, but you hope you're developing personal relationships with people in hopes you're investing in their life in a way that means something to them and I hope that's been the case," Alexander said.