What Is The Ideal Video Background?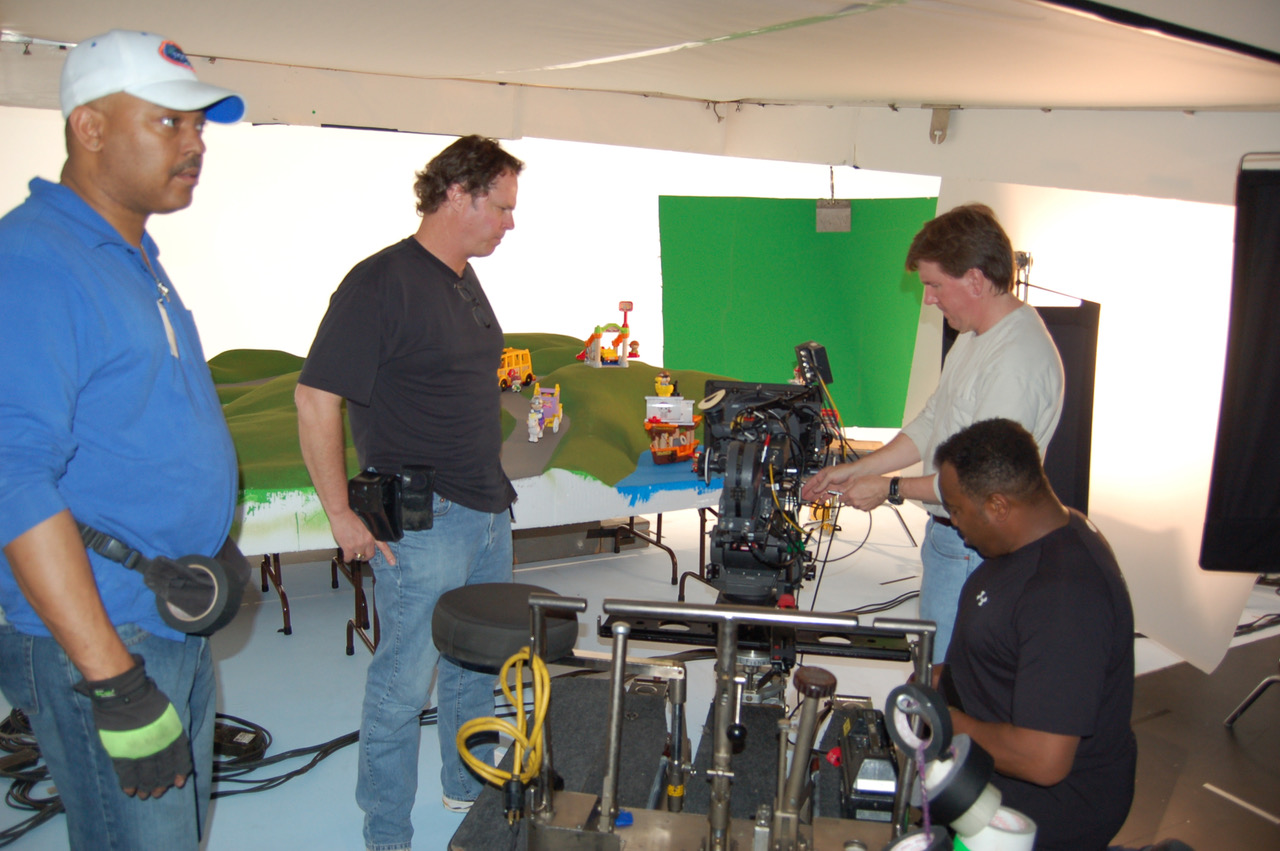 Do you have a commercial or video you're trying to produce, but don't know where to start? Let the pros at CRM Studios handle it. We specialize in a variety of video production services, but at the core of many of our videos is the setting.
We're going to go over the types of video backgrounds you should consider for your next project and which one might be the perfect fit to evoke those belly laughs or tear-inducing moments you're searching for.
All four of these settings have their strengths and weaknesses, so we'll go through them all to help you choose the right one.
Cyc Wall
First up is the white Cyc wall, which is sometimes referred to as a Cyclorama. This simple backdrop is one of the go-to, traditional options for creating a unique video background. At the top of the list of reasons a Cyc wall is so useful is its ability to be lighted. Using even lighting on the white backdrop allows the subjects really stand out and it also keeps the focus on the people communicating your company's ideas and standards. Sometimes simplicity is the best choice.
The Cyc wall isn't just known for being easy to use. The white background also allows you to add 2D and 3D graphics with your logo, key information or something eye-catching to aid you while you feature your business. You can even add video clips in mid-air to really ramp up your dynamic production quality. The lack of edges creates infinite depth, which helps with shadows and allows you to create a larger-than-life space.
All of these four options do have their downsides and a Cyc wall is one of the more overused video backgrounds when it comes to video production. A Cyc wall can at times be an affordable option, but the wall does need to be repainted and that can raise costs. Finally, once the lighting is set up, it can be difficult to tweak or adjust and that can slow down production. That's why planning is key when using a Cyc Wall so when video production starts, everything runs smoothly and every moment of production is as optimized as possible.
Green Screen
Much like a Cyc wall, a green screen is a great option that specializes in versatility along with its portability. If your video production is going to be set on-location, being able to bring a green screen and add another location to your shoot can really up your production value. Much like a Cyc wall, proper lighting with the green screen can really make a difference and adds that polish to take your video to the next level. Planning is always crucial with a green screen and if done right, it's a great, affordable way to separate your video or commercial from your competition.
A proper green screen does require painting so that can get expensive and it's imperative that green screens be shot at the perfect angle or they can look fake. The last thing you want is for your audience to be thinking about the green screen instead of your message.
Video Wall
Technology can be a huge asset when considering a background for your video. That's why video walls can drastically increase your production value as the quality of TVs has jumped exponentially over the past decade. Once the wall is set up, it can be ready for production quickly which helps reduce the time needed to make the video. Adding in some high-quality graphics can supersize the overall feel of your project and give you the flare that catches your audience's attention.
Of course, video walls can be expensive and significantly impact your budget. Due to how much light the video wall emits, lighting for the on-screen subjects can be difficult to optimize. Also, setting up a video wall is very time-consuming, so that can add a few days to your video production. If you have something simpler and quicker in mind, some of the other options might be more ideal.
Sets
If you're looking for that authentic feel to your video production, creating a set is your go-to solution. Shooting with a set helps create the warmest, friendliest environment for the talent on screen and can help transport the audience to you. That way the audience is more immersed in your message and video and that's crucial to an effective commercial. The ability to create ideal depth and shadows that TVs can sometimes suppress is also one of a set's top uses. Sets can be used for a variety of situations and settings and can be customized for several uses. 
Video walls and sets are great backgrounds for any video production, but they can also be costly. Sets are also very bulky and expensive to store. That also adds more days to production, so if you're looking to create a video in a short time period, sets may not be the way to go. They also require a fair amount of upkeep because 4K TVs can pick up on any quality dips.
From Cyc walls and green screens to video walls and sets, there are a multitude of options to consider when planning your next video or commercial. Whether you're looking for something simple and portable to something more in-depth and high-tech, CRM Studios has the experience and technical prowess to help you find the perfect fit for your next project. We've also got the soundstage, equipment, and production crews to make your video the best it can be.

If you're looking for ways to boost your company's reach and credibility, look no further than CRM Studios for its top-notch video production team that will help you organize, create and direct your next video. If you're ready to get started, contact a producer today!