CRM Studios Films On Location With HomeTeam Pest Defense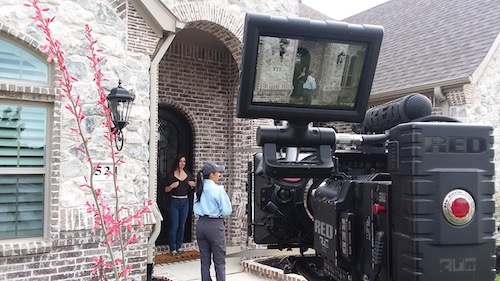 Location shoot covers four scripts in one day!
Dallas video production company CRM Studios recently teamed up with
Agency QMobius and HomeTeam Pest Defense for a very productive location shoot.
The objective was simple but ambitious: capture enough video on location to cover four separate videos demonstrating HomeTeam Pest Defense's service procedures and quality guarantee.
But getting it all done in one day would require some strategic thinking.
A good offense is the best defense.
Much like HomeTeam's strategy of regular treatments and inspections to prevent pest problems, CRM Studios' production team had to take a proactive approach to prevent any interruptions or wasted time in our filming schedule.
In order to get all the shots we'd need for each script, we would need to have multiple teams shooting simultaneously well out of script order.
Shooting out of order is not an unusual practice. It often makes sense to divide your shot list by location in order to take advantage of certain conditions: the position of the sun and weather concerns for outdoor shots, and lighting instrument set-up for interior shots.
The number of scripts involved in this location shoot made logistics a little more complicated.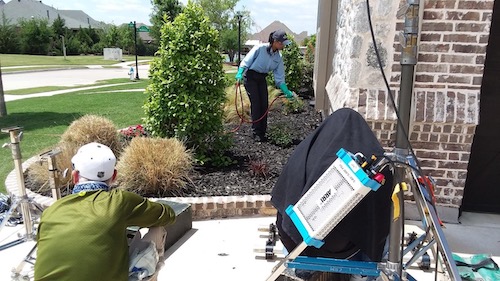 A "sound" strategy makes for efficient location filming.
One of the things we didn't have to worry about was capturing audio. All spoken dialogue would be done by voice over that could be captured later (or earlier) in a controlled studio environment. Not having to coordinate microphones and audio equipment would save tons of time on our shoot— an advantage we intentionally gained during the script-writing stage.
Next, we determined that we would engage more than one talent to represent HomeTeam Pest Defense pros. This created an opportunity for wider representation and an additional way to keep track of which script we were getting shots for at any given moment— not to mention a reduced workload for each acting talent.
A single-family house in Prosper, Texas would be our location.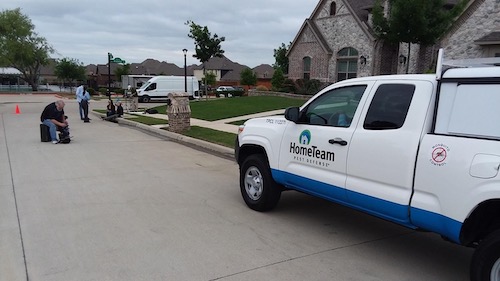 Grouping similar shots together was key.
We assigned each actor two scripts apiece, and our Senior Director, Steve Dunning got to work on a detailed shot sheet.
Once all four scripts had their shots assigned, those shots were grouped together that shared similar actions and similar locations. Two of the scripts were very closely related and had many overlapping shots — but because those scripts would feature different actors, even those scenes had to be shot twice.
Well over 100 individual shots would be needed.
For shots that overlapped scripts, we would set up the shot and do a few takes with "Actor 1" while "Actor 2" stood close by, ready to jump into the scene when it was their turn.
If we were outside the line of sight, some of the crew could begin setting up the next shot. We call this way of shooting 'Leapfrogging'. When we got to a point where the shots were only for one script/actor, a second cameraperson operating one of our drones could get shots of the HomeTeam truck driving and pulling up to our location home. Of course, extra media cards, lenses and batteries were kept close at hand since recording had to be almost non-stop.
Luck can be just as important as planning.
With a limited budget or production window, you don't always have the option of second chances and pick-up shots. Sometimes, you have to get it right the first time —and no matter how well you plan in advance, certain factors you can't control have to work out right.
A big factor is the weather.
We were fortunate to land on what turned out to be a cool day with not too much sunlight, as all of our shots were outdoors. And although our location was fairly remote, both of our actors happened to know the area well, so no time was lost while trying to find the place.
All in all, it was a very smooth shoot where almost everything went right. We got in and out without disturbing the homeowners, and filmed everything we needed in less time than anticipated.
Good fortune played a part, but great planning from CRM Studio's experienced professionals made it all come together.
Whatever challenges your particular video project holds, chances are we've managed them successfully before. You can depend on CRM Studios to successfully complete your next video production in Dallas and beyond, whether it requires location filming or a soundstage.
Contact CRM Studios today to get a quote.